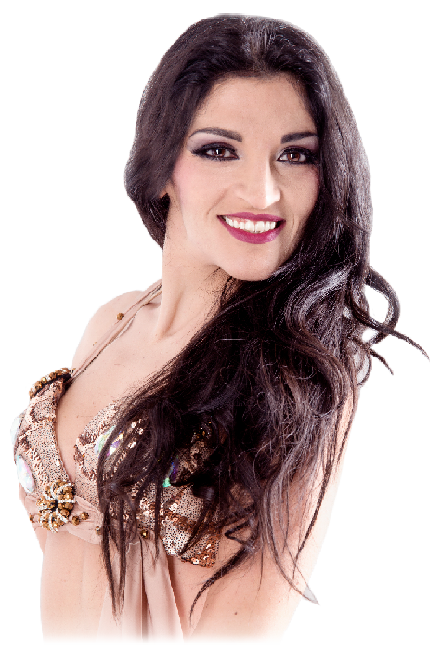 With a Mediterranean flavor, Teresa stands out for her elegant style and joyful and stylized movements.

Dancer, choreographer and teacher of oriental dance.

In July 2015 she joins the cast Bellydance Evolution directed by the American Superstar Jillina and dances in the tour in Taipei (Taiwan) of the show "Alice in Wonderland".

September 21, 2012 she receives the qualification of the "Arabian Dance School-Italy in Genoa" from Amir Thaleb in Buenos Aires, Argentina and presents her own composition at "EIDA" (XIV Encuentro Internacional de Danzas Arabes) in the Super Gala Show.

Since 2010, she is the creator of the event RAKS FLORENTIA for the promotion and distribution of oriental dance in Tuscany.

Her course of study begins in 2002. The search for her own style brings her to participate in seminars by renowned masters Amir Thaleb, Saida, Yamil Nammu, Shanan, Yousef Constantino, Jillina Carlano, Amar Gamal Saad Ismail, Wael Mansour, Aziza Abdul Ridha, Devorah Korek , Leyla Jouvana, Kamellia, Sandy D'Ali, Evelina Papazova and Simona Minisini.

In 2004, during a stay in Madrid, she attended seminars on Arab folklore at the Centro de Danza Oriental Al-Andaluz.

An incisive experience for her formation were the four years of study, from November 2008 to July 2012 with the "Arabian Dance School" (division of Genoa) of Amir Thaleb, where she studied with masters of the company including Yousef Constantino and Yael Torchinsky.
In September 2012 and August 2014 she enriched her artistic experience studying at the "Arabian Dance School" of Amir Thaleb and at the Saida dance school in Buenos Aires.

In 2012 she took part in the teachers' training course taught by Simona Minisini.

She performs in cultural centers, summer arenas, Florentine venues, events throughout Italy and in some of the most renowned festivals Bulgaria Layali Oriental Dance Festival (2015, Sofia, Bulgaria), Etna Belly Dance Festival (2014-2015, Catania, Sicily), Stelle d'Oriente (2012-2013-2015, Turin), BellyFusion Festival (2011-2012-2013-2014, Assisi), Heshk Beshk (2013, Venice), EIDA (2012, Buenos Aires - Argentina), Ahlan Wa Sahlan (2011, Cairo, Egypt). 8th and 10th International Congress of Oriental Dance (2010-2011, Milan Marittima), Bellydance Stars (2007-2008-2009, Milan).

March 20th, 2010 she organized an oriental dance show presented by the Tunisian consulate.

In August 2008 she danced in the show organized by the musician Nour Eddine with the Gnawa musicians of North Africa.

In March 2008, the choreography "Ibis" is selected at Danza in Fiera by Francesco Volpe, principal dancer of the San Carlo Theatre in Naples, to participate in the Festival of the Arts 2008 in Bologna, under the artistic direction of Andrea Mingardi.

Every year since 2006, she takes part in the event in Florence Danza in Fiera, both as a dancer and as a teacher, holding lessons on different themes:
"Introduction to the study of oriental dance", "The use and handling of the double veil", "Gypsy Dance", "Art and Sensuality of Middle Eastern dance", "Yalla Sharqi", "Modern Sharqi", "Yalla with BellySamba ".